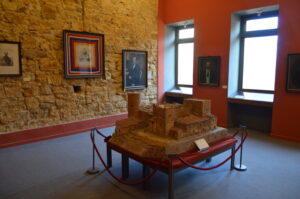 The Museum was renovated in its installations on 11 May 2010 on the occasion of the 150th anniversary of the Unification of Italy but it was founded in 1960, on the occasion of the centenary of the arrival of Giuseppe Garibaldi in Salemi.
The Museum re-proposes the events that led to the birth of a unitary state in the form of a constitutional monarchy led by Vittorio Emanuele II since the revolution of 1848.
It is divided into two sections, 1848 and 1860, within which are organically exposed the documentary sources taken from the Municipal Historical Archive of Salemi, that highlight the fundamental role played by the city and its fellow citizens who participated with different roles and functions in the path of the Risorgimento.
You can also appreciate some documents, letters, photographs, testimonies inside that tell the story of the riots of 1848 and the undertaking of the so-called "Thousand"  up to the Unification of Italy.
The Museum is enriched by a collection of sabres, rifles, bayonets, "trizzalore" of the period and paintings depicting some of the "picciotti" (young people) from Salemi who joined Garibaldi flanking him in his purpose.
There are also some canvases of "decurioni" who expressed to General Giuseppe Garibaldi their gratitude for having spontaneously assumed the defense of Sicily through  the deliberation of the Civic Council of 14 May 1860 during which they  joined the national cause with the unanimous vote.  They also begged him to take the dictatorship of the country to ensure its order and freedom, to drive out the satellites of Bourbon despotism.