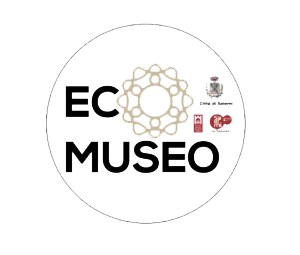 The Ecomuseum of Wheat and Bread enhances and reopens  in a space  which is at present unfamiliar to the public but of great historical and architectural interest. It was built in the early years of the 700 CE probably as the seat of the Congregation of the Holy House of Loreto which was a building reproduced in the architecture of the underlying Oratory which bears the same name.
The concept of "ecomuseum" was born in France at the beginning of the 70s, thanks to the archaeologist Hugues de Varine and the museologist Georges Henri Riviére, who imagined it as "the museum of time and space in a given territory".
The Ecomuseum of Wheat and Bread also contains various artifacts (video products, photographs, works of art) from the artistic experimentation and interpretation of the theme of bread and the rite , that many Sicilian artists have carried out on the occasion of the editions of the exhibition "Rituality, tradition and contemporaneity of bread", born from the desire to promote a reflection on how to keep today, after centuries, the tradition, and how that same tradition can generate new forms that are easily found in our daily lives. Below you can download in pdf the Municipal Regulations Ecomuseum of Wheat and Bread.
Link to pdf Regulation of Ecomuseum (Italian only).
Coordinator of the Ecomuseum of Wheat and Bread
Giuseppe Maiorana
Information: ecomuseogranopanesalemi@gmail.com
Instagram: @ecomuseogranopane
Facebook: @ecomuseodelgranoedelpane_salemi